Gefran Sensorless Vector ADV50
At BlackStar Automation, we have the expertise to make sure you find the right drive for your particular application. Our current selection of Digtial DC drives is shown below but please feel free to give us a call at any time.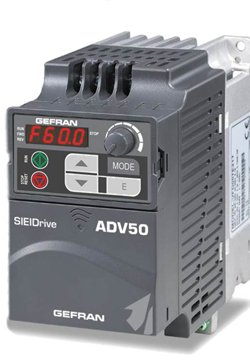 The Inverter ADV50 concentrates all the characteristics required by modern industrial processes in a single product while at the same time complying with the typical needs of installers and system integrators who require forefront, practical solutions that are, above all, advantageous in terms of space and cost.
The ADV50, with its high-level functions and integrated PLC, is the ideal solution to cater to the wide range of different application requirements of the automation sector, providing a simple but powerful method of operation and programming of the most modern control systems.
Applications: Roller door, Small elevator, Escalator, Parking device, X-Y axis of travelling crane; Dumpling maker, Food stirrer, Grinder, Small lathe, Milling machines, Injection molding (clamp); 4 side planer, Woodcarver, Wood working machine; Wastewater processing system, Costant pressure water treatment system, Air compressor; Heat exchange fans, Building water dispenser system; Round weaver, Cross weaver, Ribbon weaver, Printing press, Knitting machines; Pulverizer, Treadmil, Feeder, Industrial washing machine, Packing machine, Centrifuge.
Functions:
3 points adjustable V/f curve
Automatic Voltage Regulation (AVR)
Accel/decel S-Curve
Over-voltage/over-current stall prevention
5 fault records
Reverse inhibition
Momentary power loss restart
DC braking
Auto torque/slip compensation
Auto tuning adjustable carrier frequency
Output frequency limits
Parameter lock/reset
Built-in PID feedback control
Built-in PLC function
External counter
MODBUS communication
Abnormal reset
Abnormal re-start
Power-saving
Fan control
Sleep/wake frequency
1st/2nd frequency source selections
1st/2nd frequency source combination
NPN/PNP selection
Complete protection function
Options:
• Keypad
• Digital I/O Expansion cards
• DeviceNet module
• Profibus module
• CANopen module
• DIN-rail adapters
• Earthing plate
• USB-RS485 RJ45 Converter
• Braking Unit Module
• Standard keypad extension cable 2 mt
• Options on request only: Relays Expansion cards, Encoder Expansion card, USB 1.1 Expansion card, LonWorks module, Zero Phase Reactor, Digital Keypad for parameters copy