A tachometer is an instrument designed to measure the rotational speed of an object such as a live shaft of a motor or an idler roll. A tachometer's output is measured with the units of volts DC. It's typical use is to provide feedback to a motor controller such as DC converter. The word tachometer is made up of two greek words, tachos and metron.
At BlackStar Automation, we normally stock most of the Hubner tachometers and Hubner encoders below. From couplings to fittings, our team will make sure you get what you need whenever you call. You can call us anytime at 980-224-0051 or email at sales@blackstarautomation.com for a quote. Expedited shipping is available upon request and we'll do everything we possibly can to get you your tachometer or encoder as quickly as possible.
We stock APY 50, APY 100, FAPY 50 And FAPY 100 Tachometers for quick shipping to anywhere in the world. Our team is ready and willing to go the extra mile to make sure your company is taken care of.
 The APY is a direct, drop-in replacement for the GE 5PY series.
Other sellers and manufacturers of these and other discontinued tachometers include:
GE 5PY
Baldor BTG
Baldor PFT
Hubner Giessen B5, B3
Gefran
SIEI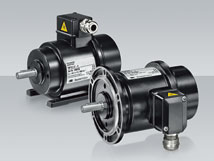 Our prices are so competitive that we don't currently display pricing online. Please call us now for a quote today.