Gefran ARTDriveS XVy-EV
At BlackStar Automation, we have the expertise to make sure you find the ac servo for your particular application. Our current selection of AC servos is shown below but please feel free to give us a call at any time.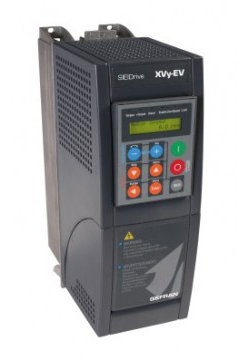 Gefran ARTDriveS XVy-EV
Servodrives, from 4kW (5Hp) up to 315kW (450Hp)
3 x 230Vac…480Vac, 50/60Hz
Motor powers from 4kW (5Hp) up to 315kW (450Hp)
IP20 protection degree standard (external heatsink predisposition for IP54 mounting 15kW-20Hp)
Marks: CE, UL, cUL
SieiDrive – XVy-EV series servodrives offer advanced technology for drives used in Motion Control applications, their high-bandwidth, powerful DSP and highly reliable power stage allows the drives to provide excellent control for a vast range of brushless servomotors and asyncronous motors.
XVy–EV implements next generation functions as a standard, to perfectly meet the most advanced architectures of the most modern industrial servo systems.
The integration in the drive of dedicated application software programs allows for unique customisations, to suit specific controls of complex machineries in sectors such as: working machineries for plastic material, sheet metal, textiles, wood, marble and printing presses, as well as in the most advanced automation solutions.
Flexible and powerful, XVy-EV can offer two programming modes for the intuitive implementation of both simple architectures and complex control systems.
Functions:
Double control for brushless motors and for asyncronous motors
Self-tuning of current regulator
7 programmable multispeed
4 independent programmable ramps (Acc/Dec and CW/CCW)
Encoder repetition / Auxiliary encoder
Jog function
Motor potentiometer function
"Speed Draw" function
Drive overload protection through I x T algorithm (for exceptional performances) and I2T (for standard overloads IEC146)
Thermal I2t protection for motor and braking resistor
Motor stationary braking management
"Coast through" and "Power loss stop" functions
"Helper" function via Fast Link
Drive working modes:
– Torque and/or Speed
– Position:standard positioning device and sequential multi-position controller
– ELS,Electronic Line Shaft
Linear motors control
Field bus management: Profibus, CANopen, DeviceNet, Ethernet and internal Fast Link
Options:
Expansion boards for signal encoder repetition
I/O expansion boards useful according to the machine needs
Absolute encoder management with SSI, EnDat 2.2 and Hyperface protocols
Profibus-DP and GDnet field bus interface
Communication kit for internal Fast Link
Safety cards (motor side inhibition)
Developing tool for IEC 61131-3 standards: MDPlc 51.10
Software key enabling for DeviceNet interface: CODE DN-XVy
Standardised application SW programs in PLC mode
SHJ and SBM brushless servomotor series with powers up to 442Nm
Dedicated EMC filters (in compliance with CEE – EN61800 – 3:2004)
Input and Output chokes (standardized for the whole line)
Remote programming keypad kit
RS485 serial line kit for PC connection